No.
Part # / Description
/ Price
Price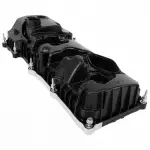 Valve Cover
Valve Cover, Left
Ford Parts are the Only parts designed and built to the specific Standards of Ford Motor Company and are the Only parts recommended for use in your Ford or Lincoln vehicle. F150. Left. Transit. 3.5L w/ turbo. Expedition, Navigator.
Cap Assembly Oil Filler
Filler Cap
Incl.Gasket. 6.8L. 3.5L, with turbocharger. 6.2L. To 11/03/2014. 5.4L. To 11/14/2016.
Engine Timing Cover
Timing Cover
3.7L. To 10/17/16. From 10/17/16. Transit. Expedition, Navigator. F150. Mustang. 3.5L without turbo.
Related Parts
Part # / Description
/ Price
Price